ORIGINAL STORY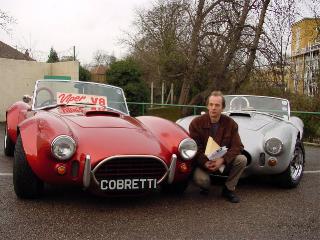 Dave owns the: "Red Dragon" & Peter did own the "Silver Bullitt"
(It was purchased directly by a "John Doe" at "McLaren" so its gone to a very good home)
"VIPER BOB" with two of his "TOYS", had to heavily bribe the owners to turn up for a photo Shoot
(Offered......A FreeYears service, subscription to Auto Express that clinched it, What a Magazine)
But when they heard what the shoot was for...........They did it for Nothing!!!!!!!!!!!!.......
THIS IS WHY
Auto Express:..............Thursday 15th January 2004
American brand Dodge will mark its debut in British showrooms with the launch of the awesome
Viper SRT-10 supercar later this year - but the plan has already run into trouble.
That's because the man pictured above - Bob Busbridge from Morden, Surrey - has a tiny kit car
company based in a workshop in his back garden. Why is this a problem for Dodge bosses? Because
his AC Cobra lookalike is called the Viper.
But it doesn't stop there; the issue is further complicated because Busbridge - who's sold only 45 complete
cars and 200 self-assembly kits in nearly 20 years of business - doesn't own the Viper name, either.
He's been involved in a 18-year legal battle with another man - Kenneth Cook from Bournemouth,
Dorset - about who registered it first with the UK Patent Office.
Busbridge explained: "My car is the Cobretti Viper and I got caught in this legal wrangle through my
own stubbornness. I always believed I had the rights to the Viper name." Cook's company,
Brightwheel Replicas Ltd, has also sold a kit car called the Viper and he thinks the trademark is his.
Attempts by Auto Express to contact him failed.
Dodge parent firm DaimlerChrysler knows of both men's claim to the legendary name, so won't be
using it in Britain for its 500bhp monster. In 1992, when the company was just Chrysler, it lost a
legal battle with Mr Cook about using the word Viper on a car here.
Speaking at the Detroit Motor Show, where Dodge's launch in Europe was announced, Chrysler UK boss
Simon Elliott told us: "We'll market the car as the Dodge SRT-10. Everyone knows it's a Viper and for
the 30 LHD examples a year we'll sell, it's not worth spending the money to buy the name.
"Richard Yarrow"